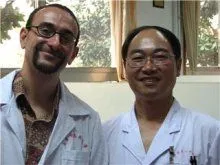 Dr. Isaac Hendler holds a bachelor's degree in natural healing modalities from The Evergreen State College. He went on to complete a Masters degree in Acupuncture at the Asian Institute of Medical Studies. While in Tucson, Arizona, Dr. Hendler sat in on Dr. Andrew Weil's "Program of Integrative Medicine." He then completed a clinical internship at the College of Modern Chinese Medicine in Nanjing, China. He went on to study advanced Chinese and European auricular therapy with Dr. Terry Oleson and Dr. Tom Corbin.Dr. Hendler completed six series with Dr. Richard Tan in the treatment of difficult disease and pain management. He also completed Master Tong's beginning and advanced point series with Susan Johnson. Dr. Hendler finished the Chinese Herbal Program with the Institute of Chinese Herbology. He then completed the advanced Chinese medicine program with Bob Flaw's Blue Poppy Institute. He continued on with Bob Flaw's advanced training in the Chinese medical treatments of gynecology, pediatrics, and autoimmune diseases. Dr. Isaac Hendler has completed his doctor of acupuncture at the Pacific College of Health and Science.

Dr. Hendler has been studying and teaching yoga, tai ji, qi gong and Thai massage for more than 20 years. He finished three Thai massage trainings in Kho Pangan, Thailand, with Master Yan Praphas Sangkhawat, becoming a certified Thai massage teacher. He also completed a yoga teacher training at Mount Madonna Yoga Center. Isaac has traveled to Asia five times to study with his teachers and is dedicated to continuing education.

Dr. Hendler was challenged with severe Lyme disease at the age of 17. The conventional treatments were unsuccessful leading to Isaac's pursuit of qi gong and Chinese medicine. Due to the profound and positive life changing effects, Dr. Hendler has dedicated his life to pursuing Chinese Medicine and the healing arts with the intention of helping others with their pain and suffering.

Dr. Hendler is the proud father of his two daughters Arianna Rose, and Eva Lily. When Dr. Hendler is not seeing patients or teaching taiji and qigong , he is dancing, singing , cooking and playing in the woods.


MAY YOUR HEALTH BE YOUR WEALTH!